Crafts Materials Needed:
Shoe boxes x 4

Ruler

Cardboard

Pencil

Scissors

Glue or paste

Paints (optional)

Lace paper doilies (optional)

Brush (optional…needed only if you paint)

Fancy paper (optional…needed only if you want to wallpaper the inside of the house)
Step 1
Remove the covers from four shoe boxes of the same size, and throw them away as you will not need them. Glue one pair of shoe boxes together, end to end.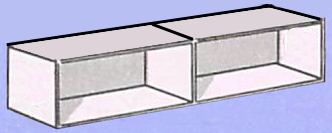 Glue the second pair of boxes the same way.
Step 2
Place the boxes with the open ends towards you, and glue the second pair over the first to make a two-story house.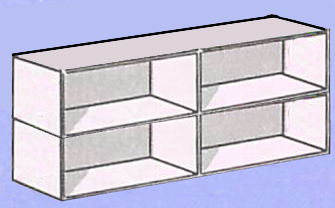 Step 3
For the roof, measure a piece of cardboard two inches longer than the width of the house. ( When the roof is folded and placed over the house, the overhang will be one inch on each side. Cut out the roof. Fold the roof section exactly in half, the long way, as in illustration A.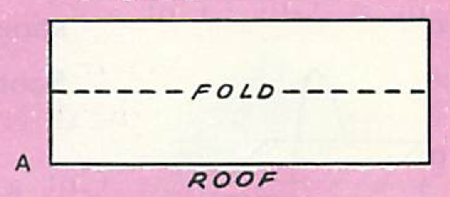 Step 4
For the gables of the roof, cut two triangular pieces of cardboard, with a little flap on each of the three sides, as in illustration B.
Bend the flaps back.

Step 5
Glue the bottom flap to the box top, and the two other flaps to the underside of the roof section. Do the same to the gable at the other end.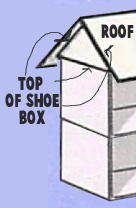 Step 6 : Wallpaper or Paint (Either is Optional)
Paint the inside of each of the four rooms a different color. Allow them to dry thoroughly. If you like, you may glue fancy paper to the walls of the rooms, instead.
Step 7 : Cut Out Windows and Curtains
Cut out windows, and glue pieces of lace paper doilies inside the windows, for curtains, as in illustration C.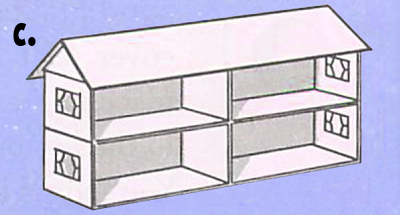 Christian Foster Care
Photo by Andrew Greto; ideas and craft stylings by Lynn Zimmerman. Disney FamilyFun.